Coronavirus fears: Choosing a headstone from home
Posted 15/03/20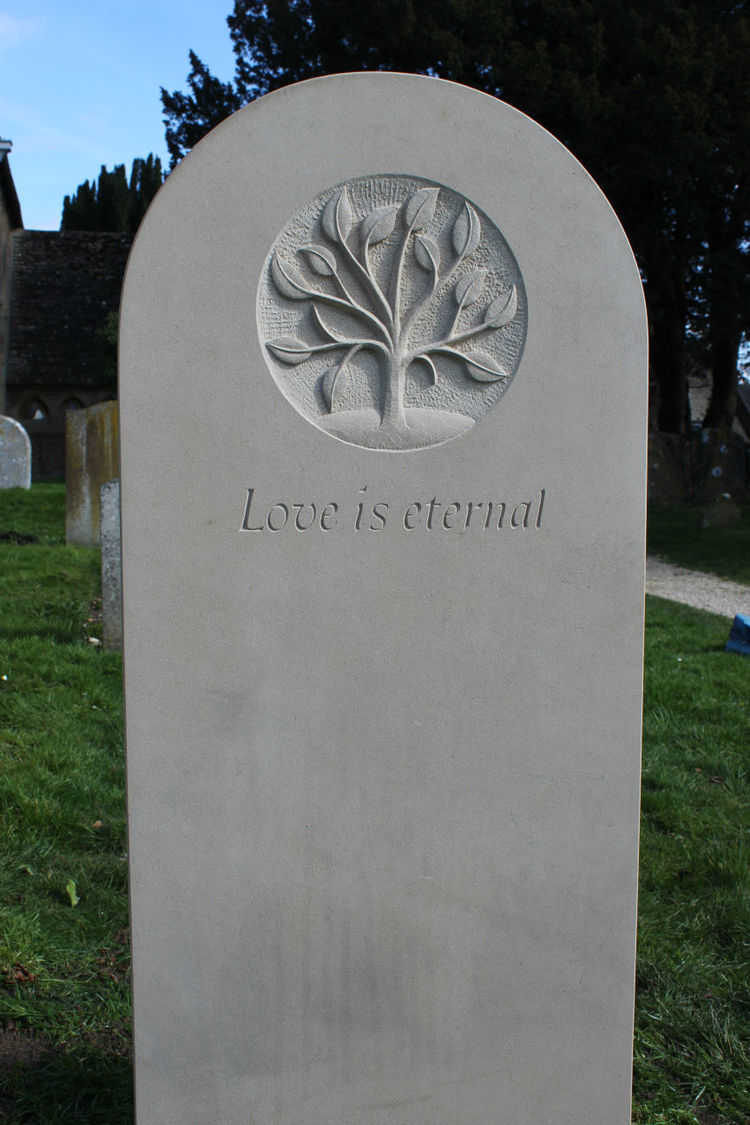 Choosing a headstone can be a daunting and stressful process. However, here at Stoneletters we take a very sympathetic and caring approach, which can make what might be upsetting into a therapeutic and healing journey.
Many of you will be worrying about commissioning a headstone at this time because you are unable or unwilling to travel in the light of the Coronavirus outbreak.
However, with modern technology, it is perfectly feasible to commission a headstone without visiting the workshop. We have made many headstones for clients who are unable to visit in the past, and they have all found the process very easy and perfectly workable.
How can I choose a headstone without visiting the workshop?
Ironically, although what makes our work so special is the lack of machinery and technology in the workshop, we do make excellent use of modern technology when it comes to communication. Usually, we always encourage new clients to visit the workshop as there is lots to see in progress. However, there are lots of other sources of ideas.
Where can I get inspiration and ideas:
1 The Website
The best place to start for inspiration is by browsing the website. There are countless blog posts with lots of photographs of headstones, as well as the headstones gallery and our Instagram page which also features recent headstones. The following blog posts are particularly helpful:
-Advice on choosing an epitaph Click here
-Gravestone symbols Click here
-Choosing the best material for a headstone Click here
2. Our free booklet
Please ask us to send you a free booklet; this describes the commissioning process and also features several examples of headstones.
3. Our new book : Headstones- Advice and Inspiration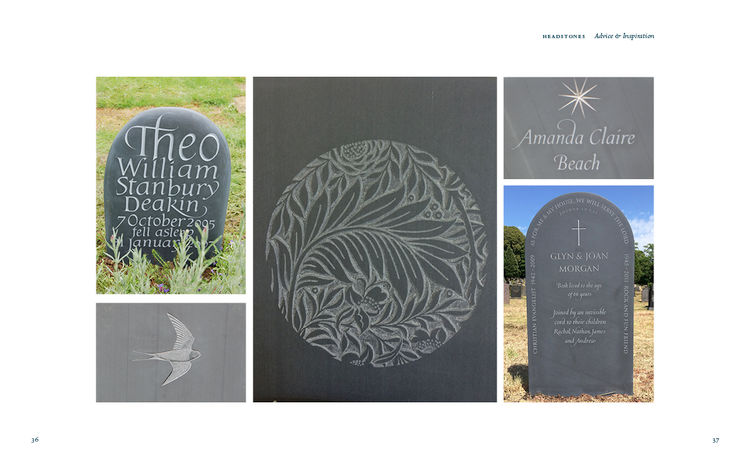 We are fortunately just about to launch a new book to raise money for Maggie's cancer support charity. The book is a comprehensive guide to choosing a headstone and a rich source of ideas. It features over 150 photographs, client stories, everything you need to know about choosing a headstone, and a long list of epitaphs. If you would like to be notified as soon as the book is ready, please either sign up to our blog or just send me an email. The book will cost £20 + postage, and every penny of profit will go to Maggie's.
Communicating about a proposed headstone
Email, letter or telephone
The best place to start might be to send me an email or letter with details of the proposed headstone- you might have a good idea of what you want, in which case people often find it helpful to send me screenshots or photos of our headstones you like, some with examples of lettering styles you might like, or carvings you might like for example. Once you have our book, you can tell me which photos you like by page number.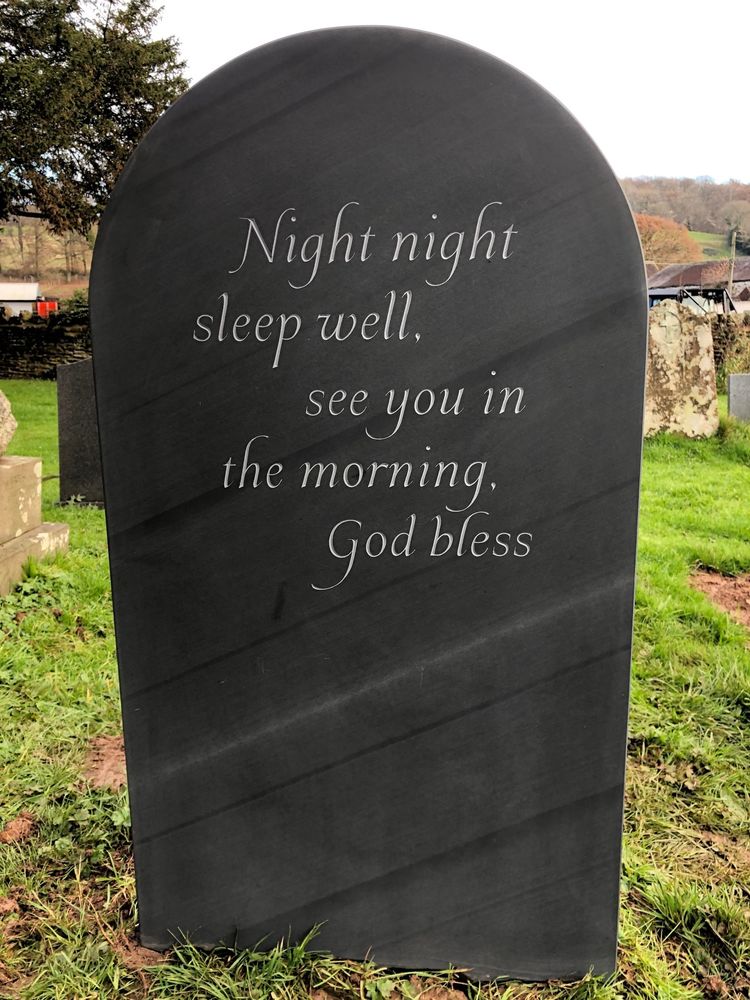 Helpful questions to answer are as follows:
1.What wording would I like?
-names/dates
-epitaph/quotes
-anything additional on the back or sides of the headstone
2.Would I like a carving or any decoration?
3.Would I like a special border?
4.What type of stone do I like?
-this might just be a matter of light vs dark or you might have seen a photograph you like
5. Where will the stone be located? - it is helpful to know so we can find out what the regulations are especially concerning the size restrictions
6. What style of lettering do I like? - here you might like to give me examples of stones you have seen on our website or book that you like
Please feel free to pick up the phone, either at the very beginning to help you get started, or once you have thought about the above questions. I am always available to talk through your ideas with you.
I usually tell people to think about the wording first, as the design then usually follows on from there. Things like choosing the shape and material of the headstone are often dictated by the text. I can offer lots of advice over the phone, and it is often helpful to sit down with a computer or book in front of you at the same time.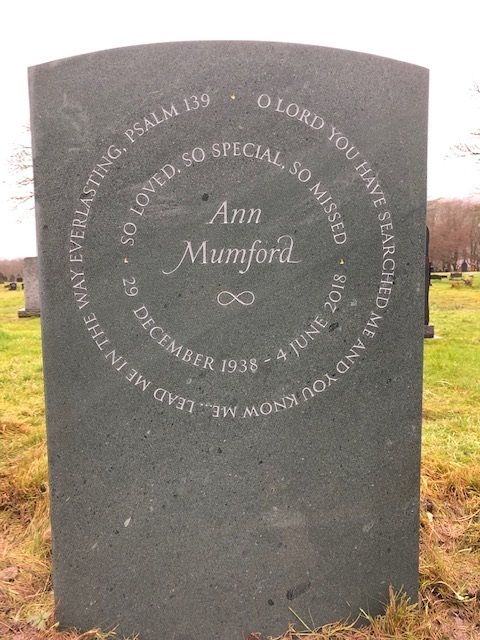 Design Phase
Once you have sent me all of your ideas and we have had a chat on the phone about how you might like the headstone to look, I can then work on an idea and I usually email the proposal over. If you are still very undecided I might firstly send you a few rough sketches before doing a more detailed design.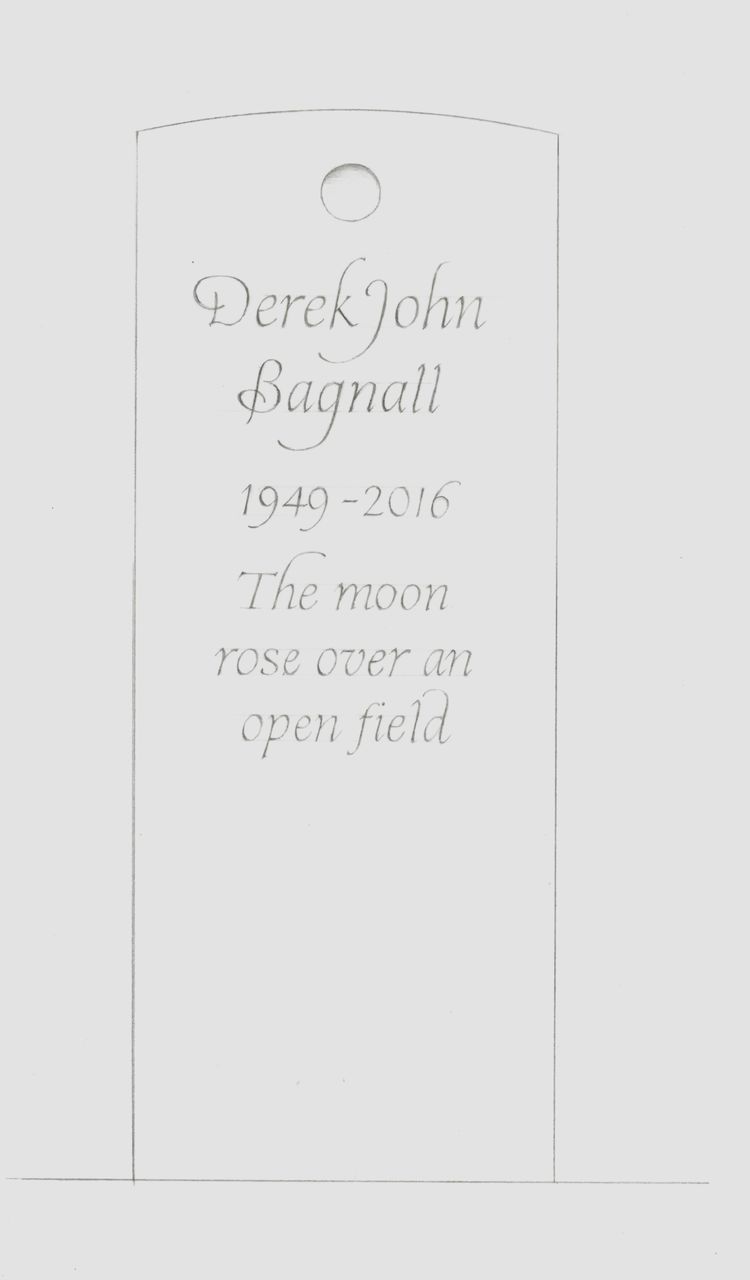 Drawing Out
Once you have chosen a design and I have obtained permission and we have the stone in the workshop, I will draw out the inscription on the stone. At this point, if you can't visit, I shall send you a photograph of the stone for you to check before I start cutting.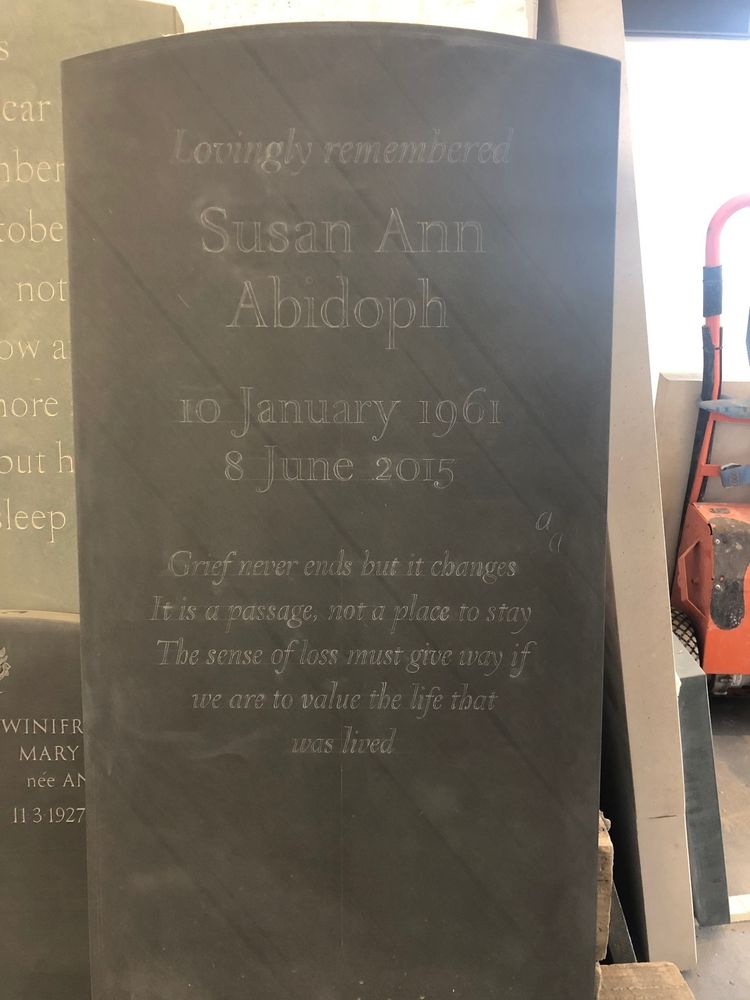 The finished memorial
As long as you let me know exactly where the memorial is located, and the grave space is clearly marked, we can fix the memorial stone without you needing to be there. Once fixed we always take a photograph of the stone, and we will email one to you straight away.
I hope this article helps allay any fears of commissioning a headstone without visiting the workshop. Although we always prefer to meet if possible, at this time we may not have that luxury, but fortunately, there is no need to put off choosing a headstone, and we hope you will start by requesting a free booklet, and also a copy of our new book, which is full of inspiration.