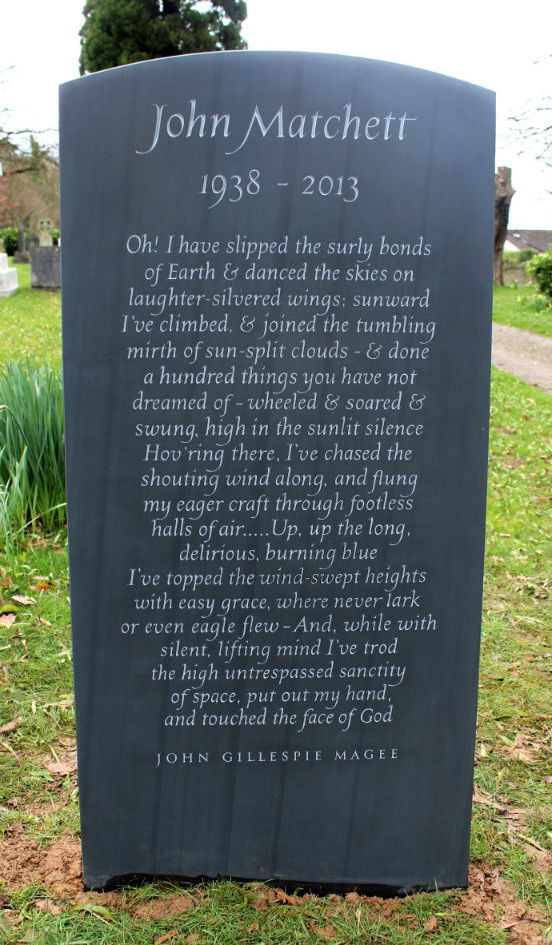 This long poem by John Gillespie Maggee Jnr was carved in small italic lettering with stunning effect. This is an example of how poems can be used on headstones in place of standard epitaphs, and with fine, hand-carved lettering, the poem takes on its own form and shape.
When you carve a long inscription the rhythm is particularly important, as from a distance you will not be at first be able to read the words, and the inscription as a whole needs to draw you in.
Here is the poem:
High Flight
Oh! I have slipped the surly bonds of earth,
And danced the skies on laughter-silvered wings;
Sunward I've climbed, and joined the tumbling mirth
Of sun-split clouds, --and done a hundred things
You have not dreamed of --Wheeled and soared and swung
High in the sunlit silence. Hov'ring there
I've chased the shouting wind along, and flung
My eager craft through footless halls of air...
Up, up the long, delirious, burning blue
I've topped the wind-swept heights with easy grace
Where never lark or even eagle flew --
And, while with silent lifting mind I've trod
The high untrespassed sanctity of space,
Put out my hand, and touched the face of God.
For further examples of epitaphs for headstones see my long list of over 150 epitaphs.