Civil War Plaque for New College, Oxford
Posted 11/02/20 in Commemorative plaques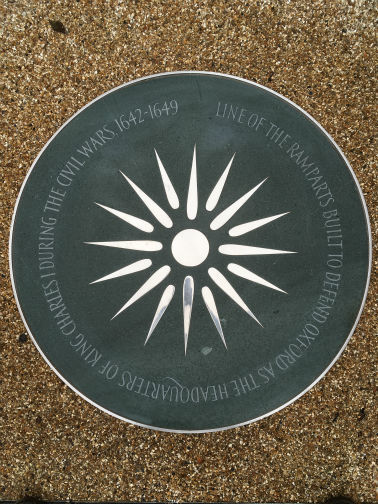 I was approached in 2019 by New College Oxford to create a special plaque to mark the civil war ramparts which run through New College grounds. The plaque was unveiled at a ceremony on the 30th of April by the Lord Mayor of Oxford. For further information on the history of the British Civil War and the defense of Oxford, see this fascinating article by David Parrott, Professor of Modern and European History at New College.
The decorative pattern was created using inlaid stainless steel pieces. Both the plaque and the metal were cut using cutting edge water-jet technology. Although we do the majority of our work by hand without the use of machines, there are occasions such as this when machines can do a more precise job than the human hand. The pieces slot perfectly into the plaque and are held in place using resin.
The way to keep the metal polished to have it raised by a millimeter so that it is perpetually polished when people walk over it.
For the material, we chose green slate which is hard wearing and durable. The lettering painted off white to mimic the natural cut surface of the stone. We may have to re-paint the lettering after a few years as with heavy footfall it can gradually fade a little.