In 2008 I was asked by the British Antarctic Monument Trust to collaborate with the designer Graeme Wilson to create a memorial for St Paul's Cathedral. The memorial commemorates those that have died in the pursuit of scientific knowledge in Antarctica.
Design for memorial to go in St Paul's Cathedral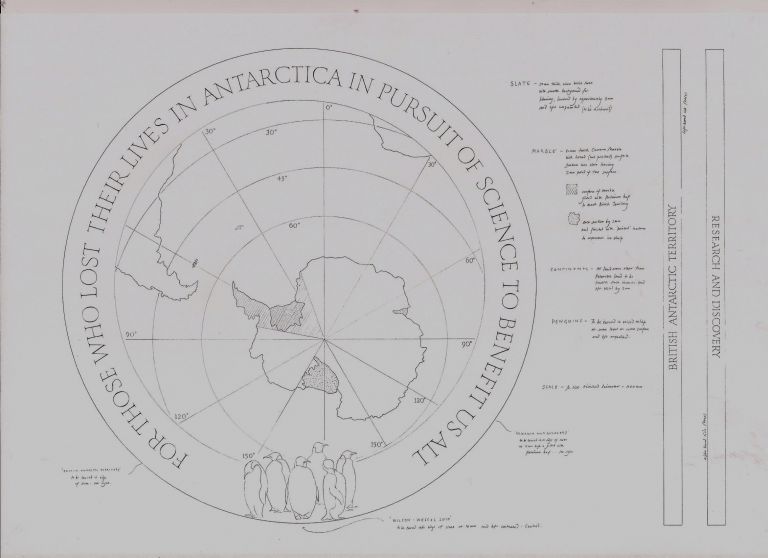 The circular plaque which measures 1100mm diameter is made of riven Welsh slate with a map of Antarctica inlaid using Carrara Marble. A huddle of Emperor penguins will be carved at the base. The inscription 'for those who lost their lives in Antarctica in pursuit of science to benefit us all' is to be carved into the smooth periphery of the disc. Around the rim the title 'British Antarctic territory' and its motto 'Research and Discovery' will be carved.
The British Antarctic Monument Trust has been set up to celebrate the achievements of the men and women whose scientific exploration in the British Antarctic Territory has led to new understanding of our planet, and to honour those amongst them who did not return. It will inspire a broader interest in the Antarctic and a deeper understanding of the fragility of our environment and the interdependence of our world.
The Antarctic is the highest, coldest and windiest continent: remote, hostile and uninhabited. Yet it is a key part of the fabric of the earth. Processes taking place in the Antarctic affect the world's climate and its oceans, linking the continent inextricably to ourselves.

Since 1944, some 2000 men and women of the British Antarctic Survey have worked in the world's most treacherous conditions to help us understand the world in which we live. Twenty nine Britons have died in this pursuit of scientific knowledge.
The plaque which is now being made will be dedicated at 5:00pm Evensong on Tuesday May 10th 2011.

For more information go to the British Antarctic Monument Trust Website