How do you choose a headstone material? These materials are my favourite for different reasons, but all have the wonderful quality of looking lovely in their setting. They weather gracefully and take v-cut lettering beautifully.
After a quick glance at the list below you will notice the lack of granite (which has its qualities). This is partly due to the fact that my work is hand-made and granite does not lend itself well to hand carving.
1. Slate
Slate is my favourite material to work in. It is unforgiving, yet beautiful to carve. One has total control over the design and letterforms. It takes very small lettering well. For slate headstones, I usually use Cumbrian Kirkstone, which is harder than Welsh slate and has a nice texture. I use Welsh slate when a client particularly wants it, sometimes there are Welsh roots to be considered! It is slightly harder to obtain, but it is even nicer to cut. more examples of slate headstones
Slate is my favourite material to work in. It is unforgiving, yet beautiful to carve.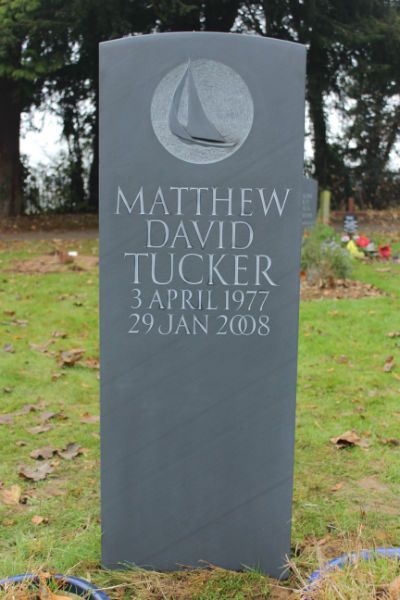 2. Green Slate
The green slate I use comes from two quarries in Cumbria; Elterwater and Broughton Moor. The slate is grey-green, volcanic and very hard. It often has lines running through it of lighter greens and whites and random patterns and swirls. Being a natural material, it is impossible to know where these markings will end up; some people love this random quality, but for others, it can conflict with the inscription. It is lovely to carve, however, and like the grey slate, one is not limited to certain letterforms and sizes. more examples of green slate headstones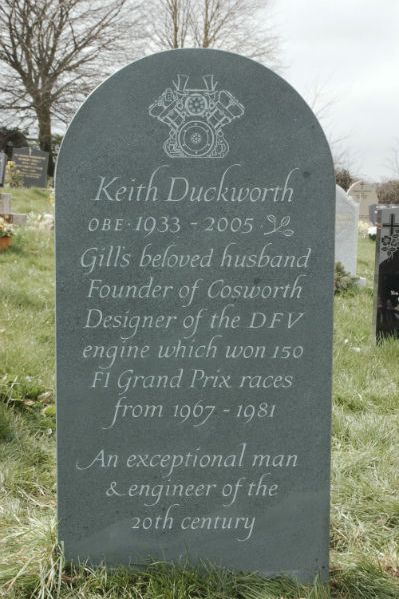 3. Portland Limestone
Portland limestone is the classic headstone material. After a year or two, it begins to mellow and weather softly to various tones of grey. The surface becomes slightly harder in time protecting it from erosion. However, Portland headstones need bold lettering. Small flourishes and fine italics will not last as the weathering process will cover them within ten to fifteen years. A capital letter really has a (suggested) minimum height of 30mm. Lettering needs to be cut deeply as one relies on the shadow to read it. Our grey climate in the UK only reinforces this logic. This photograph of a Portland headstone has a raised bead around the edge; I first saw this idea in a small churchyard at Capel-y-fin on a headstone carved by one of Eric Gill's apprentices many years ago. The raised bead on the Portland headstone not only looks elegant and frames the inscription, but is also helps shelter the lettering a little. more examples of Portland headstones
Portland limestone is the classic headstone material.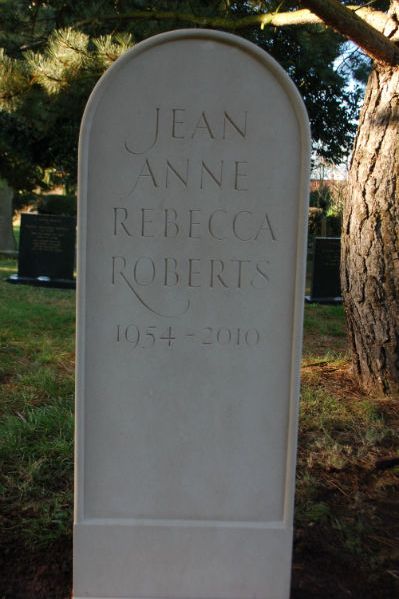 4. Purbeck limestone
Purbeck limestone is a rich looking limestone, honey-coloured and full of little shells and fossils. There are many different colours available, Thornback being the most suitable for headstones. When the texture of a stone is richly patterned it can conflict which the shadow formed by the cut letter, so again bold letterforms are called for. Sometimes the carved letter will need to be filled with a wash of paint (mixed up to match the colour of the shadow).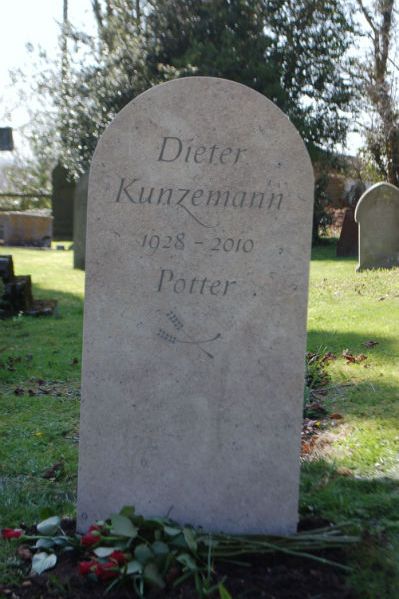 5. York Stone
York stone is a sandstone, and York stone headstones do not find themselves in my workshop very often, presumably because a good deal of my work tends to be in limestone country. York stone is a relatively soft but very durable stone. I often compare the density to a low fired earthenware pot. Whereas Nabresina might be the equivalent to porcelain, York stone is like a gritty ovenproof clay. When tapped it gives off a low thud, rather than a 'ping'. An ovenproof pot withstands the impact of sudden changes of high temperature; York stone withstands the changes in low temperature making it a perfect choice for headstones in areas susceptible to harsh frosts.
There are many quarries supplying York stone for headstones. Some types are fairly grey and bland while others are honey coloured and patterned with lines. Like Portland limestone, it lends itself best to big, bold letters.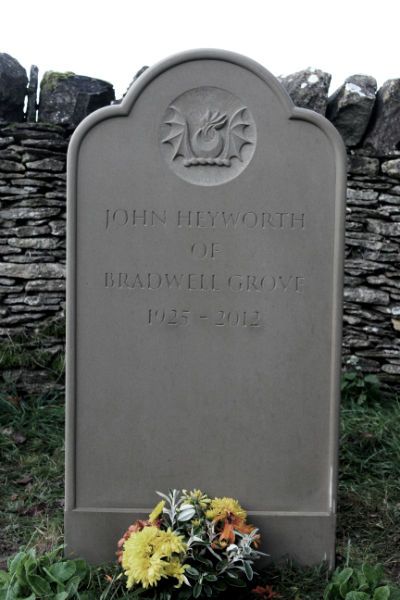 6. Nabresina
Nabresina and Auresina are two Italian limestones used by me in place of a much loved English limestone called Hopton Wood stone from Derbyshire which at the moment is unavailable. Nabresina is light grey with darker grey flecks. It is incredibly hard and much longer-lasting than say Portland and may be chosen when there is lots of text or small lettering which would be lost on Portland as it weathered. Nabresina is sometimes used interchangeably with Auresina, otherwise known as "white Nabresina".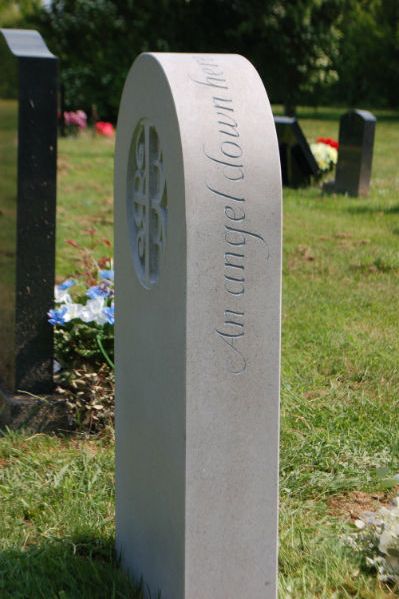 7. Aurisina
Often referred to as "White Nabresina", Aurisina is much lighter than Nabresina, almost white with light grey/brown flecks. It is nice to carve and again long-lasting, being suitable for small detailed carving and small letters.
When using a very white stone, it is worth considering our damp climate. It is a bit like have a white sofa; it'll very quickly show every speck of dirt and if under a tree, it can grow green bacteria. This Auresina headstone has a beautiful carving at the top.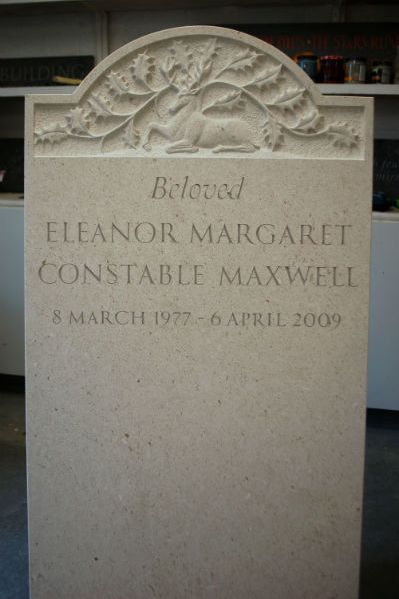 For further examples of our headstones visit our headstones gallery.