1. Slate headstone for a musician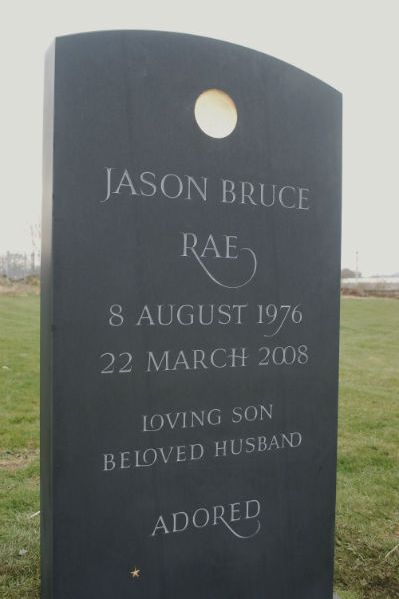 This slate headstone was made for a musician and it has some bars of music on the back. It was commissioned by the singer Corinne Bailey Rae for her husband who was a saxophonist. There is a gilded gold disc at the top and a small gilded star at the bottom.
2. Slate Memorial for a teenager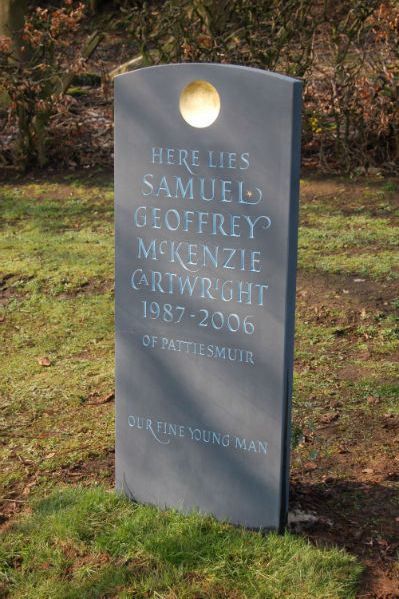 This teenage memorial was commissioned in slate and stands proud at 4ft tall, one of my tallest memorials. The lettering of the headstone is unusual in being painted a light wash of pale blue instead of off white. Teenage memorials must reflect the character of the young person who left this world too soon, and capturing their spirit is always a challenge.
3. Slate headstone with relief carving of Kingfisher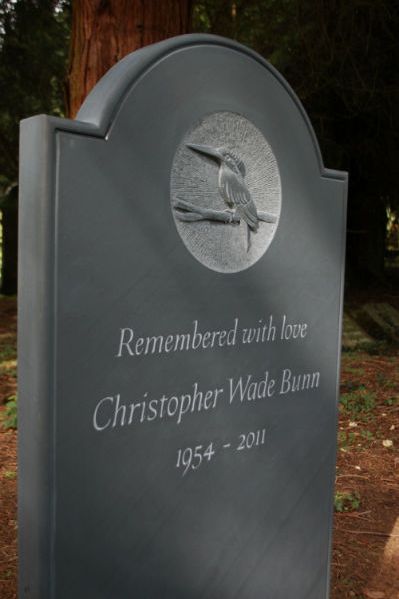 This slate headstone has a relief carving of a kingfisher adapted from a painting by Christopher Bunn whom the stone commemorates.
4. Slate headstone with capital letters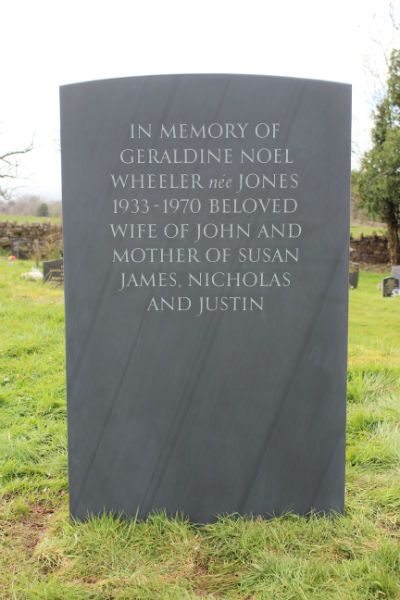 This headstone demonstrates how fine capital letters can look and how an inscription can take on a pleasing shape.
5. Bespoke slate headstone with Caslon lettering
Here we have highlighted the ornamental and decorative qualities of the lovely Caslon ampersand and made it the focal point. It is balanced with a representation of a Caslon ornament
6. Unique slate headstone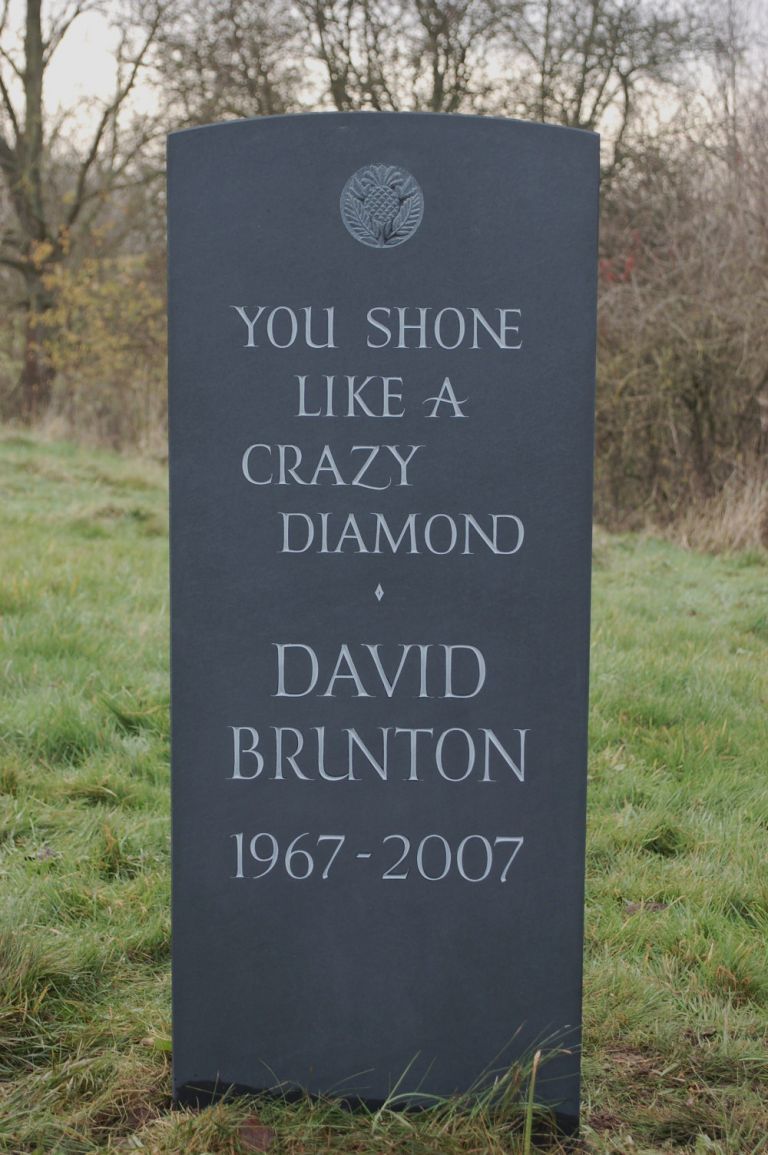 It is an unusual idea to have the epitaph above the name, but it's another way to draw the reader in. The occasional flourish and ligatures all help to soften the wording giving it a more approachable feel.
7. Traditional slate headstone
Sometimes all you need are the names and dates. Good material, good letters, good spacing and good layout go a long way. Not much else is really required.
8. Pebble headstone in slate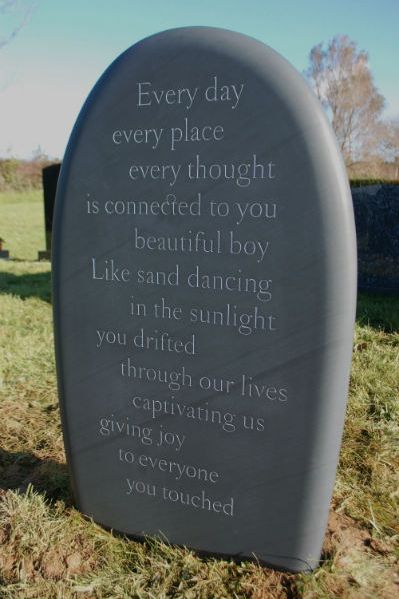 Sometimes a headstone needs to be tactile. A pebble off the beach is good to hold in the palm of one's hand. A pebble headstone has the same attraction. The lettering doesn't need to be wild; it would detract from the calm shape.
9. Unique slate headstone with boat carving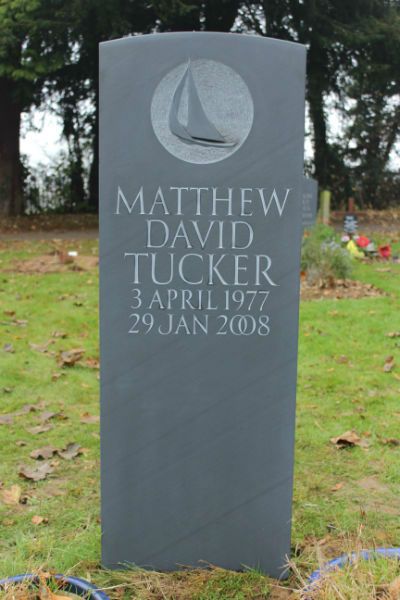 A carving contained in a circle calms it down, taking away the sharp edges. The boat style (a modern sloop) used here is not generic, but correct. Much research went into making everything right.
10. Slate gravestone with line carving of a horse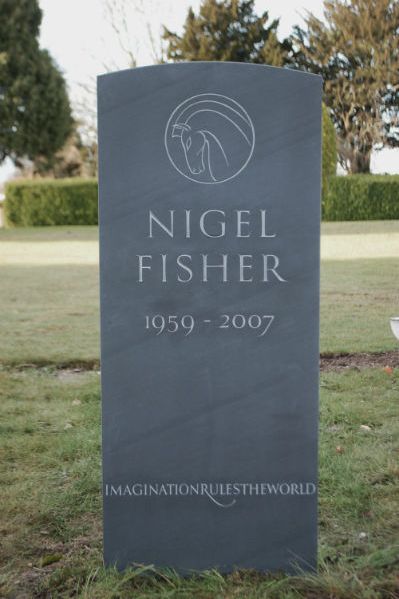 An inscription like 'imagination rules the world' was chosen by the family to reflect Nigel Fisher's nature and attitude. However, it has the benefit of speaking to everyone who reads it. In other words, it might be a personal epitaph but it might also make the reader reflect on his or her own life.